Sedona is located about two hours north of the Phoenix Arizona area and it's a great place to take a day trip if you are ever in the valley. Many people will spend a day trip here as they're heading north to the Grand Canyon so it's a logical stop should you ever head that route. It's a place where the Sonoran Desert and its cactus meet the high elevation forests of the Coconino National Forest. There you'll find a strange mix of red sand, rusty colored rocks strewn with cactus and pine trees of various types. Unlike the deserts that are a bit to the south, Sedona is about 10 to 20 degrees cooler than its Arizona relatives.
Sedona is known in modern days as being a place that attracts an artistic and spiritually minded community who are often attracted to the laid-back lifestyle and the supposed energy vortexes that surround the area. The city in its surrounding area is made up of a special sandstone that formed with iron deposits throughout which gives the mountains a rusty red color. Supposedly, you can't find rocks just like these anywhere else on earth.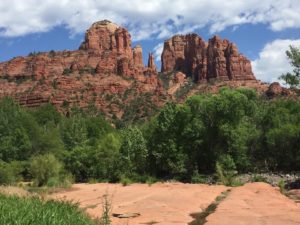 The history of Sedona even goes as far back as over 10,000 years ago as evidence suggests that prehistoric humans began settling here around that time. Those civilizations that came before have vanished and gave way in more recent times to what we called the Sinagua who are a relatively unknown culture of Native Americans that built cliff dwellings on the sides of the mountains. Their real name is not known but their lands were later inhabited by the Hopi who settled the area hundreds of years after the Sinagua supposedly vanished. Remnants of their dwellings still exist today in various places around Sedona and even some of them quite easily.
One of the remote settlements you can venture out to Unagi which is roughly 1,000 years old. To get there, you must take a primitive road that takes about 30 to 40 minutes just to travel a few short miles off-road. If off-roading is not your thing, you can also hire one of the many jeep tours in town that can take you here from Sedona. The small community was once built along a natural stream and they use rocks and mud to make buildings that would have blended in quite well with the natural red rocks around them. Inside the ruins, you can see some petroglyphs made by the original inhabitants that depict themselves, some wildlife, and some natural and astronomical events that may have occurred during their occupation.
One such common theme is said to potentially highlight the supernovae that formed the Crab Nebula which was notably observed all around the earth in around the year 1054. The significance of this event was documented by other cultures as far away as China and helps archeologists date the time in which the Sinagua would have lived here.
Another big draw for tourists to the Sedona area is all the hiking trails into the surrounding mountains. You will walk through a mixture of cactus and forests as the elevation changes and the ecosystems developed. You can hike to the popular stone structure known as The Devil's Bridge. Despite such a sinister name the moderately challenging hike will take you approximately four miles round-trip to get to the top and back. The prize at the end of the climb is a breathtaking view of the devil bridge overlooking the valley down below. If crowds are not your thing plan to take this hike outside of the holidays and weekends when there are little fewer people on the trails.
Downtown Sedona is full of cowboy and Mexican themed restaurants as well as plenty of souvenirs and gift shops selling jewelry and knickknacks. This is a good place to form your base of operations as a journey back and forth between different must-do landmarks around town.
Whether or not you are personally religious, there are two particularly picturesque locations that we consider great stops to check out. The first is the Church of the Holy Cross which is best viewed in the early mornings around sunrise. This tiny chapel is built into the Red Rocks and is an easily recognized landmark for someone who has been here before. The other place to check out is the Buddhist temple which hides in a local community. A short hike up a trail will take you to this peace park that is a spiritual place to relax and perhaps say a prayer or two if you are so inclined. Just make sure you are quiet and respectful of others that may be meditating in the area.
There are many more activities and adventures to do in and around Sedona so we encourage you to check it out if you ever head to Arizona.